The market is in the vibrant Cais do Sodre district, by the water's edge. It's connected to the traditional, heritage Mercado da Ribeira, which still sells local and imported fresh fish and ham, seasonal fruit, vegetables and nuts.
It was also the first Time Out Market to open, in 2014, driven by Time Out's Portuguese office, with the motto: "If it's good, it goes in the magazine; if it's great, it goes in the market. " (Time Out launched as a city guide in 1968 in London; it is now available in 315 cities across 58 countries).
Today, the market hosts 26 restaurants, eight bars, a dozen shops, a cooking school and live music. "Our mission is always to have the best of the city under one roof, and that is valid for locals and tourists," explains Ana Alcobia, Time Out Market Lisbon's general manager.
"We know that tourists follow the locals, but not the other way around. This Time Out Market is the world's first experiment with creating a gourmet and cultural market entirely based on editorial curation.
"It draws on decades of local knowledge, independent criticism and the opinions of those who really know their subject. Our guarantee is that everything you can eat and drink inside the market will provide a great experience. "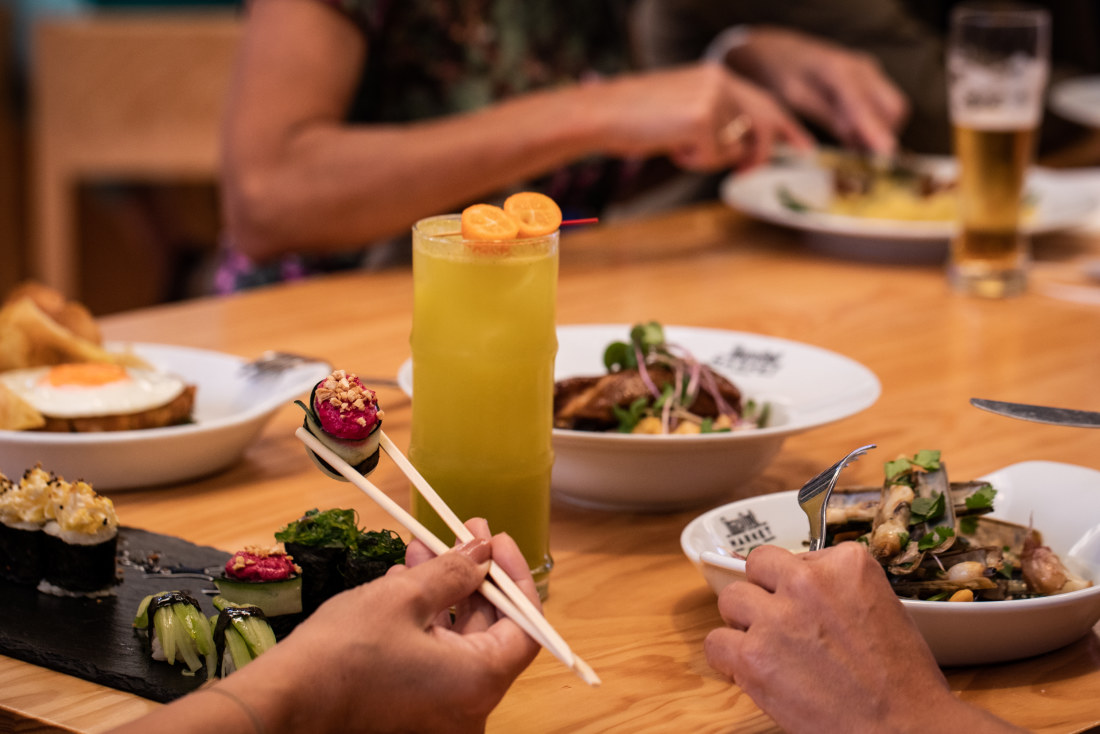 The concept has been so successful that Alcobia and her team are gearing up to open a sibling market in Porto, three hours' drive north. Seven others have opened in cities as diverse as New York, Prague and Dubai. Time Out Osaka will open in Japan before the country hosts the 2025 World Expo.
Little wonder the concept is spreading: in 2019, Time Out Market Lisbon received 4.1 million visitors, and is now the most popular attraction in the city. The proof of the pudding is in the eating, you could say.
Fiona Carruthers
The writer traveled to Lisbon courtesy of Silversea Cruises.
A 1 hour custard tart cooking course at Time Out Market Lisbon starts from € 28 ($ 42) a person.
Stay
Port Lisbon has five cruise ship docking areas, a couple of which – including the new quay, Jardim do Tabaco – are walking distance to the city and Time Out Market. There's still availability on Silver Dawn for its Lisbon to Lisbon cruise (voyage number DA221109012) from November 9 to 21, this year. Deluxe Veranda Suite door-to-door all-inclusive with airfares from $ 11,799 a person, or port-to-port (cruise only, no airfares) from $ 8150.
Central Market
Milano, Italy
Italians have an almost visceral connection to their fresh food markets. They act as umbilical cords delivering a constant supply of life-giving nutrients. It's a tradition that entrepreneurial restaurateur Umberto Montano relied upon when he opened the first Mercato Centrale in Florence in 2014. It placed many of Italy's finest artisans, producers and chefs at its heart. A bustling, two-level food hall in Rome's Termini Station followed in 2016, and Turin in 2019.
The most recent Mercato Centrale (central market) opened in Milan as part of the long-awaited redevelopment of the central rail station in September last year. It injected the historic space with color, life and good smells.
Commissioned graffiti art brings a kinetic energy to two levels of restaurants, bars and food stores. Music from in-house radio laboratory DJ Alessio Bertallot seems to follow you from counter to counter.
The food artisans chosen as tenants, says Montano, are the best in their field. "In Italy, we never make a distinction between food and art and music, it is all a part of Italian culture," he says. "With Mercato Centrale, we connect all those parts that are the life of the country and bring them to one place. Good food brings everything together. "
Unless you're racing for a train, allow time to explore, have a coffee and chat to the locals – the reward of any good market, anywhere. Then eat. Our pick: the Chianina burger from Enrico Lagorio. It's made with the famously fat-marbled Tuscan beef that is used for bistecca alla fiorentina.
Travelers can stock up on Tuscan salumi from Fausto Savigni or sit down to hand-rolled trophy with saffron and shrimp from Mondovi of Piedmont.
And it would not be Italy without an aperitivi moment (from Tannico wine bar) or an end-of-day negroni (from Flavio Angiolillo). The latest big name to sign on is Sicilian chef Filippo La Mantia.
Since April, his bottle-lined Oste e Cuoco has been home to orange-scented arancini rice balls and spaghetti alla norma. To Montano, this immersion in great Italian food is a form of luxury.
"Several years ago, luxury was connected with the beauty of everything around you – the silver, crystal, gold and ceramics," he says.
"Today, the real luxury is the connection with authenticity, with people who do not consider food as just a supplier of energy but as a high craft, made by hand."
If Italy is not on your travel agenda, perhaps Melbourne will be. The first Mercato Centrale outside Italy will open in a long, low, art deco building in Collins Street late this year via local hospitality dynamo Eddie Muto, of Barman & Larder.
The 3000 square meter space will be home to 20 artisan food stalls and a lively mix of dining and drinking, cookery classes and exhibitions.
"It took me four years to convince Mercato Centrale to come here," says Muto. "It will be an incredible platform for Australian and Italian artisans and producers to showcase their craft, in Australia's greatest food city."
Jill Dupleix
Stay
"The Excelsior Hotel Gallia just in front of Mercato Centrale is one of the most beautiful in Milan," says Umberto Montano. Part of The Luxury Collection by Marriott, the hotel is in an elegant belle epoque building with refined decor and a lively rooftop bar, and is close to the fashion-forward Porta Nuova district.
Piazza Duca D'Aosta 9, Milan.
Ostermalms Saluhall
Stockholm, Sweden
In the 1920s, Lisa Elmqvist set up a wooden table on the Stockholm waterfront and started selling her father's catch of the day. A small stall in the local covered market hall, Ostermalms Saluhall, soon followed.
Today, her great-grandson, Ulf Elmqvist, is CEO of Lisa Elmqvist, star tenant of Stockholm's magnificent market hall and holder of a Royal Warrant to supply the reigning monarchy with all things seafood.
"Running a company founded in 1926 by my grandfather's mother is both a joy and a great responsibility," says Ulf Elmqvist. "We cook our seafood and marinate the salmon according to our old recipes, while at the same time being a modern, sustainable and developing company."
The soaring red-brick, spire-capped building has been the city's gastronomic heart since it was built in 1888. It closed in 2017 to enable the City of Stockholm to painstakingly restore the original star-shaped floor plan and detailed timberwork. A grand reopening was held this year.
Restoration work can change the nature of a historic site, as modern requirements for refrigeration, technology and health and safety win out over charm and serendipity. Not here, however.
The marble counters are still piled high with salmon, lobster and shrimp; light streams in from the gable windows far above, and there are plenty of cozy corners for "fika", the Swedes' concept of coffee, cake and a chat that rules the rhythm of their days.
"There is a lot of work that is not visible to the naked eye that allows us to now call this a sustainable, modern and accessible trading place," says Anders Kindberg of the City of Stockholm's real estate department. "Ostermalm's market hall is truly a landmark in Stockholm, even in an international context."
Most of the 17 tenants have been here for generations, so getting a taste for Swedish life is as easy as swiping a tiny Smogen shrimp through horseradish mayonnaise.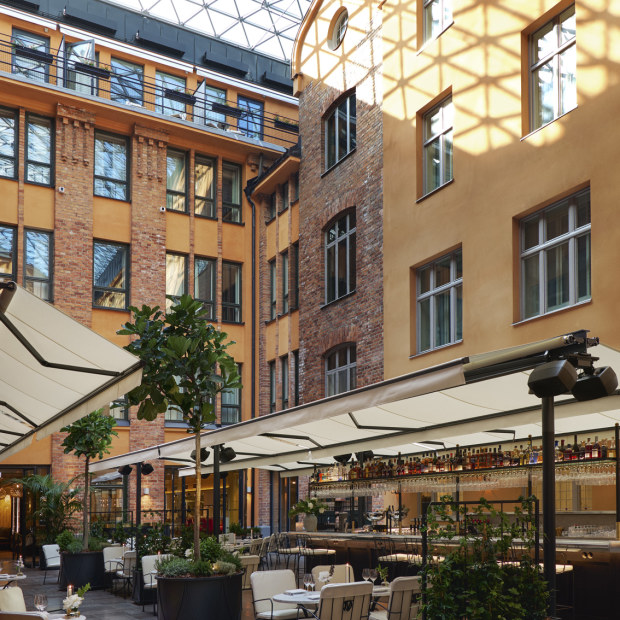 Go for the "golden" (dry-aged) beef of original tenant Willy Ohlsson or the open sandwiches on the sunny terrace of Nybroe Smorrebrod (start with herrings on rye, go on to rare roast beef or smoked reindeer and finish with cheese).
Lisa Elmqvist Fish, Seafood, Delicatessen and Restaurant dominates, of course. The counters showcase a dazzling array of prepared lobsters, shrimp and smoked salmon for picnics or a quick cafe lunch.
You can also settle in to the luxurious, comfortable restaurant and cover the table with platters of crab, oysters, caviar and dill-fringed gravlax.
The country's much-loved Toast Skagen is beautifully handled. It's all sweet shrimp coated in dill mayonnaise and soured cream, and piled onto crisp, pan-fried toast under an orange dome of lojrom, Swedish fish roe.
With a cheeky glass of lingonberry vodka, there's no better way to get a taste of Swedish food traditions and culture.
Jill Dupleix
Stay
Fashioned from an art nouveau residence and old industrial sweets factory next door to the market hall, Villa Dagmar is an oasis of Swedish warmth and calm across its covered courtyard, sophisticated wine bar, innovative restaurant, flower shop and spa – with a direct entrance into the market itself.
Villa Dagmar, Nybrogaten 27, Stockholm
The July issue of AFR Magazine – the Culinary issue – is out on Friday, June 24 inside The Australian Financial Review. Follow AFR Mag on Twitter and Instagram.