BEMIDJI – Hundreds of people camped out near Bemidji this week to step back in time to the early 1800s as part of the High Plains Regional Rendezvous encampment.
Despite a few thunderstorms along with a near 100-degree heat wave, history fanatics roughed it by living as trappers, mountain men, voyagers and soldiers in pre-1840s style while camping out in canvas tents, cooking over an open fire, wearing historically accurate clothing, participating in shooting and other practices of skill all while having fun.
For the first time since 2017, the annual High Plains Rendezvous was hosted just outside of Bemidji as it switches locations every five years between member states including Minnesota, South Dakota, North Dakota, Nebraska and Kansas.
Most rendezvous participants come decked out in the pre-1840 American attire, especially the mountain-man period of 1820-40. Hard-chore devotees come draped in buckskin and furs from head to toe, knives and tomahawks hanging from their belts and are fully prepared to camp out in genuine 1800s style.
Others come in RVs and wear street clothes with maybe a buckskin belt or pouch tacked on.
Members of the HPRR said even if attendees don't have all the primitive materials to fully participate, there is a modern camp in another section of land where they can stay as they gather the resources they need overtime to come to the primitive side where the pre-1840s dress is mandatory and any material or appliance that was not around before 1840 is forbidden.
"We are always welcoming to new people who want to try it out," one longtime rendezvous member explained. "If you don't have a complete set of primitive materials, no problem, stay in the modern camp until you accumulate the things you need to come to the primitive camp."
According to the group's website, generally, a good rule of thumb is if someone else can see it, hear it, or smell it and it's post-1840s it's not allowed in the primitive camp.
A few exceptions were made for the necessary gear, such as plastic coolers to keep food for the weekend but they were required to be kept covered and out of sight.
Since the 46th Annual Bemidji Hangfires Black Powder Rendezvous is held every year at the same location and fell the week before the HPRR, the pioneer enthusiasts were able to camp for two weeks starting on June 10 and will complete their stay on June 25.
The public was invited to experience the primitive camp life over the weekend, about 10 miles southwest of Bemidji to see the reenactment of traditions and lifestyles practiced by early American settlers. They were also able to meet a wide range of personalities portrayed from the French and Indian War, early American long hunters, Western fur trade characters and much more.
According to the participants, the mountain men and women enjoy talking to the public, known to them as "highlanders." When questioned about their costumes or trades, they would frequently drop whatever they were doing and explain them in detail, usually including a brief lesson in period history or a simple wood carving tutorial.
"It's a lot of fun and one of the neatest things is the craftsmanship of so many people," one rendezvous participant said. "Everybody has their talent and they put it to use here."
Frank Bera, the Hangfires Black Powder Rendezvous booshway (the term used for the event's president) and a member of the Bemidji Woodcarvers Club, set up shop in the small tent village known as trader's row where the early 1800s wares are put on display and sold.
Traders with knives, tomahawks, flintlocks, buckskins, fur hats, powder horns, gun powder firearms, cow horn spoons, steel pots, wool blankets, handmade beadwork, homemade fry bread and more flooded trader's row selling to interested buyers.
"Some of the traders have a specialty whether that be clothing, beadwork, wood carvings or homemade foods," Bera explained. "A lot of the things we do now, they were made hundreds of years ago but they just didn't have the modern technology and knowledge we have today."
Learning the art of woodcarving, tanning hides and the making of other primitive materials from his dad, Bera had a variety of spears, weaved baskets, walking sticks, beadwork, arrows, tomahawks and other souvenirs on display at his camp.
"It's fun to learn about these things and I wasn't one to enjoy history class as a kid," Bera said with a laugh. "My favorite part is just the camaraderie, you know just talking to the people you haven't seen for a whole year and walking around to the other shops and seeing what they (are making)."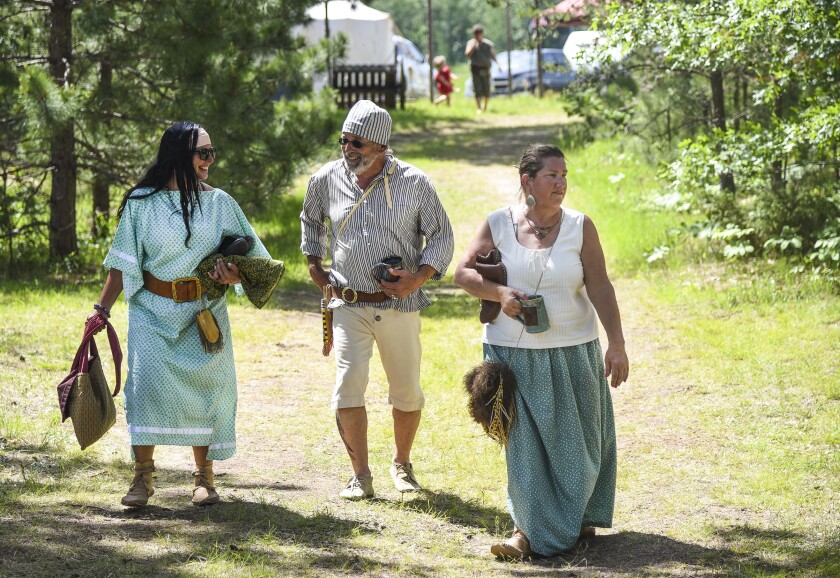 window.fbAsyncInit = function() { FB.init({
appId : '880572159243904',
xfbml : true, version : 'v2.9' }); };
(function(d, s, id){ var js, fjs = d.getElementsByTagName(s)[0]; if (d.getElementById(id)) {return;} js = d.createElement(s); js.id = id; js.src = "https://connect.facebook.net/en_US/sdk.js"; fjs.parentNode.insertBefore(js, fjs); }(document, 'script', 'facebook-jssdk'));